Artist's Statement and Bio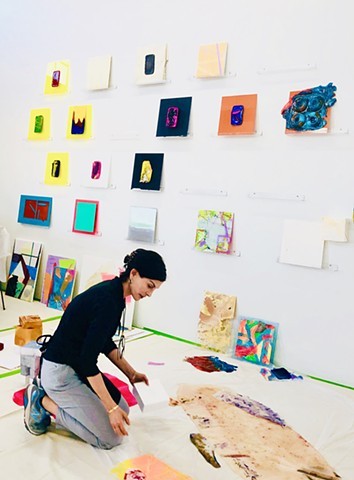 Artist's Statement
I am exploring the formless and surreal through the themes of wrapping and unveiling, absence and presence, hiding and revealing. Utilizing the nexus between painting and sculpture, I seek to create a unique dialogue with the viewer, by juxtaposing unusual materials with diverse surfaces like foam, plexiglass and aluminum.
With each piece, I embark upon a journey of discovery. I begin with a vision, then change it when confronted with the constraints of the process. Navigating this tension is similar to finding solutions to the challenges we face in life. For me, this is the reward of making art.
Bio
Lesley Bodzy is a painter and sculptor who works in Houston and New York City. She is currently a 2021 MFA candidate at The School of The Art Institute of Chicago.
She is represented by galleries in Saugerties, NY, Houston, TX, Williamsburg, VA and Jersey City, NJ. Her work was recently shown in New York City at Flatfile, Site: Brooklyn, and Blue Mountain Galleries, Emerge Gallery in Saugerties, NY, Mattatuck Museum in Waterbury, CT, Susquehanna Art Museum in Harrisburg, PA, Meadows Gallery in Tyler, TX, Palix Fine Arts in Houston.
Lesley has a BA from Mount Holyoke College and studied at Hunter College and the Art Students League of New York.