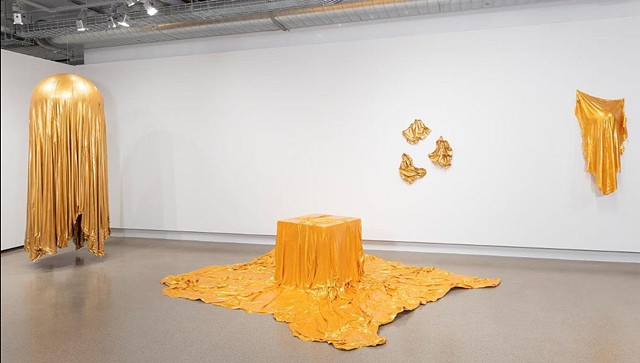 "Wrapped and evocatively finished, Lesley Bodzy's luxe assemblages belie their material composition."
Sam Adams
Art Historian and Koch Curatorial Fellow
deCordova Sculpture Park and Museum
"Your work has a unique depth one doesn't often see."
Tess Lojacono
Chief Executive Officer
Fine Art Miracles, Inc.
Pittsburgh, PA
"For the viewer, Bodzy's works are thought provoking. She traverses the line between conceptual and aesthetic art. Art that can pique our curiosity and remind us of beauty, is a gift worth unwrapping."
Jay Youngdahl
Independent Curator
"Lesley Bodzy's sculptures are made of unique materials. She applies pure paint to unconventional surfaces, like foam, aluminum and plexiglass, offering a fresh perspective."
Robert Langdon
Curator
Emerge Gallery
Saugerties, NY
"Your gold feminist works are powerful and spark synesthetic feelings, sensations that are hard to put into words. I wish I could wear one like a cloak down a monumental corridor."
D. Denenge Duyst- Akpem
Associate Professor
School of the Art Institute of Chicago